A global initiative
The Health Care in Danger project is an initiative of the International Red Cross and Red Crescent Movement aimed at addressing the issue of violence against patients, health-care workers, facilities and vehicles, and ensuring safe access to and delivery of health care in armed conflict and other emergencies.
We work in three distinct but interconnected areas:
A public awareness campaign
Highlighting the humanitarian impact of violence against the medical mission, the Life & Death campaign seeks to broaden public understanding of and support for international and national initiatives for the protection of health care.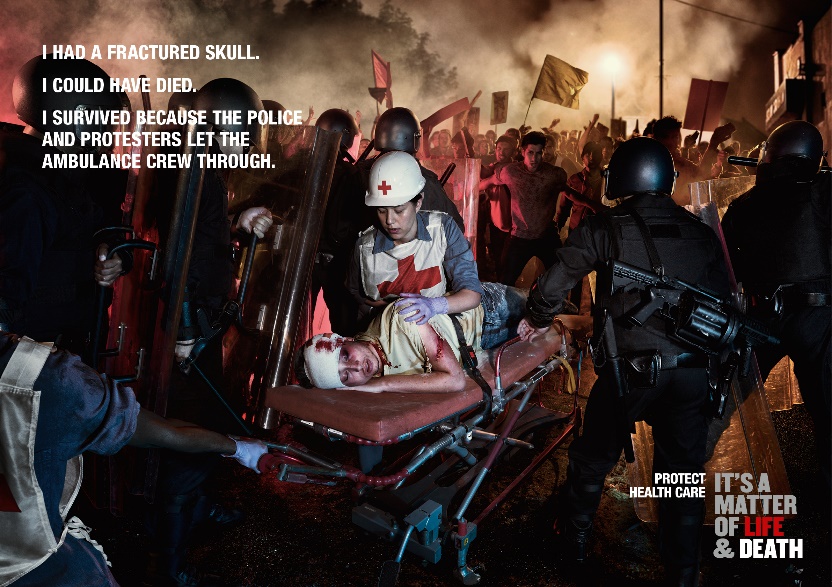 WANT TO MAKE YOUR VOICE HEARD? DOWNLOAD THE CAMPAIGN TOOLKIT
Consolidating and improving field practices and national responses to violence
The HCID project supports the implementation of concrete, practical measures and operational responses at national and local levels to prevent violence and safeguard health care in armed conflict and other emergencies. Our goal is to ensure that governments strengthen domestic law on this issue and that these measures become standard practice for all concerned.
DOWNLOAD THE HCID PUBLICATIONS ON MEASURES FOR THE PROTECTION OF HEALTH CARE.
The mobilization of a broad Community of Concern
The Community of Concern is a catalyst for change, supporting, at the local level, the implementation of recommendations and measures to protect health care. It is made up of health professionals, governments, weapon bearers, civil society representatives, NGOs, international organizations and more. Together with this community and through research, debate, consultations and workshops worldwide, the HCID project has produced a number of recommendations and practical steps to safeguard health-care services.