Health Care in Danger Regional ASIA PACIFIC Meeting 2021
ASIA PACIFIC MEETING
The 2nd Asia-Pacific Regional Health Care in Danger Meeting was held online on June 21-24, 2021. The event was co-organized by the ICRC and two leading medical universities in Pakistan, Khyber Medical University and Jinnah Sindh Medical University.
The regional meeting provided a platform for stakeholders across the region to share experiences, best practices and recommendations for the protection of health care. It delved into a range of fascinating themes and highlighted both the urgency of the issue and the necessity and promise of practical engagement.
The conference was both an example of the maturity of the ICRC`s multi-lateral collaboration on HCiD and of its potential to foster further engagement.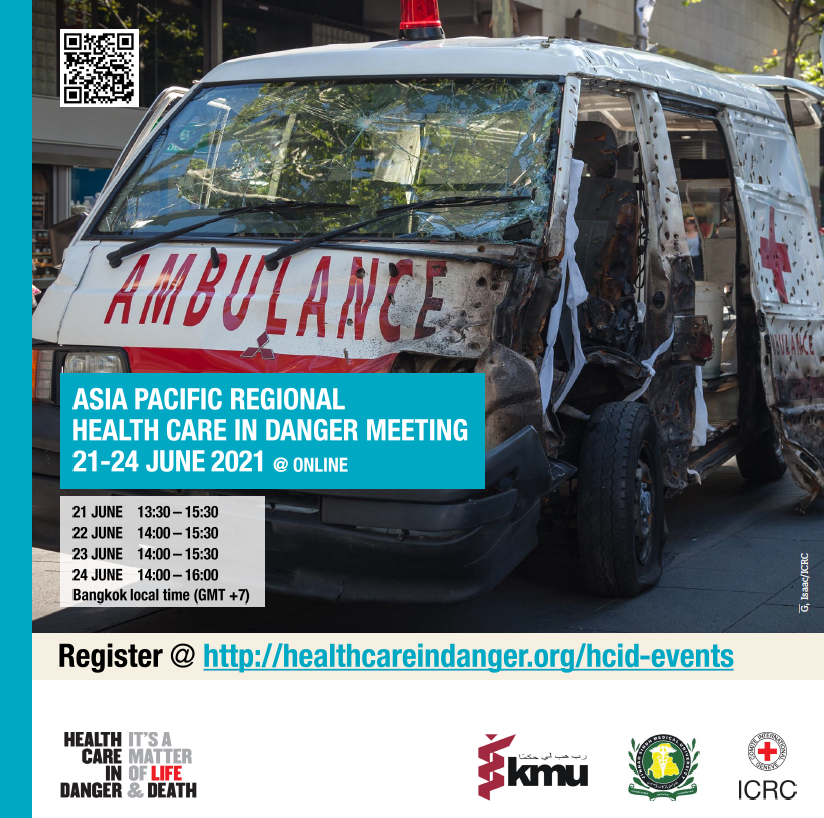 Recordings of the proceedings and copies of the presentations delivered are available HERE:
DAY 1
Session 0: INTRODUCTION
Session 1: STAKEHOLDER EXPERIENCES IN REDUCING VIOLENCE, MITIGATING ITS IMPACTS AND COPING
Theme: Preventing Violence and Harassmentin the Medical Field: The Actual Situation of Violence and
Harassment against Nurses and JNA's effort
Theme: Helping the Helpers during the Pandemic
Theme: Mitigating Violence against healthcare workers: Bridging Communication Gaps and Building Trust
THE RECORDING is currently not available! please contact us if you want to receive it.
DAY 2
DAY 3
DAY 4
The meeting also featured a spotlight session on the progress made for enhancing the protection of health care in Pakistan under the framework of the HCiD Initiative. The session highlighted the importance of fostering partnerships and evidence generation to guide multi-disciplinary response for protection of health care. This video, featured in the event as a part of session 3 (full recording above), showcases the ongoing work of the ICRC and its partners in co-creating and promoting solutions to change behaviors and foster enhanced respect for health care.