COMMunication Campaign in Lebanon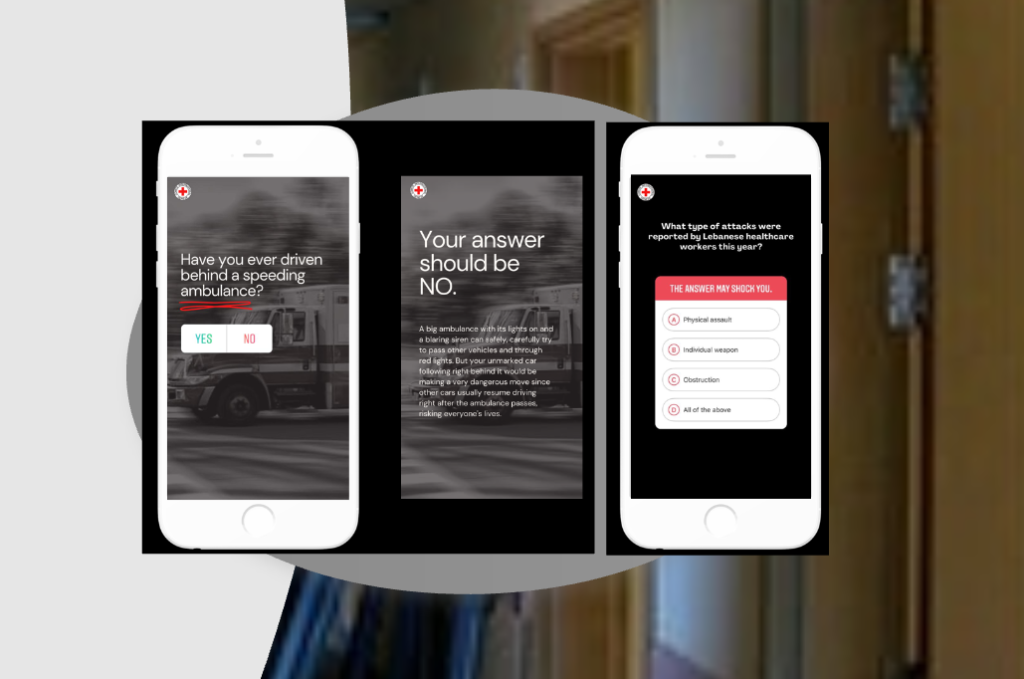 Health-care workers, facilities, and medical vehicles should never be a target of violence!
On top of the COVID pandemic, Lebanon is grappling with an unprecedented economic and financial crisis that has seen the local currency collapse and banks clamp down on withdrawals and money transfers. As the Central Bank's foreign currency reserves dry up, the country has been witnessing shortages in medicines, fuel, and other basic goods, with long lines forming outside petrol stations.
Hospitals are cutting down on elective surgeries to reserve what is left of anesthetics and other medical supplies for emergency procedures.
HCiD incidents are not new but have been exacerbated. Attitudes and actions of healthcare providers, the sick/wounded and their families, security services, civilians bearing arms, and the state demonstrate an increasing lack of access and respect of healthcare.
As part of its multidisciplinary HCiD programming, the delegation in collaboration with the Movement, has deployed a campaign which uses emotional language and imagery to appeal to the conscience of the whole population in the country.
*Health Care in Danger  (HCiD) is an ICRC-led project of the Red Cross and Red Crescent. It started in 2012 and is still running. The project is driven by a serious concern related to violence against patients and healthcare workers. The HCiD project aims to improve the efficiency and delivery of effective and impartial health care in situations of armed conflict and other emergencies.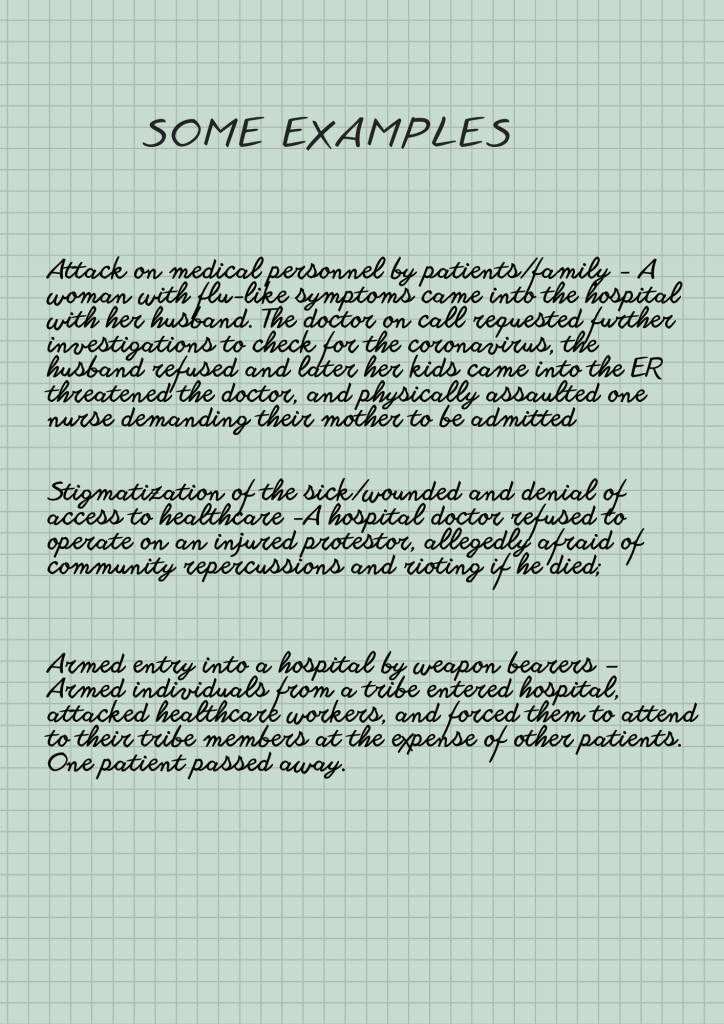 All sick and wounded people must receive, to the fullest extent practicable, life-saving care, without any discrimination and regardless of their background
BEHIND THE SCENCES - The Interview
Ultimately, to see changing behavior, when we talk about preventing targeting health care, be it intentional and non-intentional, we need to dig deeper than mass communication, we need to go beyond dissemination of key messages, beyond simply raising awareness, by having a more targeted approach, by really studying our target audience
What are the main problems you encounter in Lebanon in terms of HCiD? Can you give examples of incidents?
We are not in a position to talk about specific incidents as they are discussed with those concerned on a bilateral basis, following our principle of confidentiality. We can only outline some of the problems we have been observing in Lebanon over the past few years. 
A lot of the people who require healthcare cannot always get it in a timely and adequate manner because they can simply not afford it or have access to it. Given the situation in the country, the fuel crisis, the medicines and equipment shortage, the pandemic and the deteriorating economic situation more people are not able to get the healthcare that they need.
On the other hand, we have seen an increase in violence against healthcare workers in the country, and this is not acceptable and would lead to further delays in the provision of treatments. Healthcare workers must always be respected and provided with a safe environment that would allow them to address the needs of the patients.
What do you do to address them? 
When it comes to specific cases, we discuss them with those concerned bilaterally. We also seek to raise awareness about the importance of ensuring respect for the medical mission and access to health care for all patients among various actors, including the government, healthcare institutions and professionals, and the general public. 
Special attention is given to armed and security forces as well as other weapon bearers.
We are now in the process of conducting de-escalation trainings with healthcare workers, community sessions in different regions of the country, and have started a public campaign through traditional and social media to raise awareness among the public about the rights and duties of the patients, the healthcare workers as well as authorities.
How is the HCID campaign perceived by the government, health authorities and institutions, and the general public?
It should be noted that the HCiD campaign has a strong preventive aspect. One of its objectives is to create a community of concern and to mobilize those who have or may have an influence on ensuring the security and delivery of health care in situations of armed violence and other emergencies. 
Over the past decades, Lebanon has been affected by many such situations in which several LRC workers have been killed, dozens injured, and many health facilities attacked or damaged. However, more recently, the ICRC has observed the resurgence of HCiD incidents. So, this issue is not new or unknown to the Lebanese society. According to our experience in raising the issue with various actors in Lebanon, its relevance and importance are well understood and supported, which facilitates our dialogue and the taking of appropriate measures when needed.
Can you tell us more about the campaign?
For a long time, the rules of mass media dictated how we approached communication. We could only spread a message as widely as possible. That worked for certain issues, for certain objectives and outcomes, but ultimately, to see behaviour change when we're talking about preventing the targeting of health care, we need to go beyond mass communication. What we needed was a more targeted approach – to really study the problem and our target audience, really see who was out there and what the challenges and opportunities were. So, we mapped out a communication strategy and a plan of action.
We identified four main groups to engage with: the general public; families and clans; health workers; and the security and armed forces. In terms of outcomes, we wanted to raise awareness and influence behaviours. So, to help design messages and responses, we sought partnerships and dialogue with the Lebanese Red Cross, hospitals and health centres, professional bodies, and academic institutions. It's really important that we build alliances across the media and do not rely on one method of communication.
TOTAL LOCAL IMPACT – 17.08 – 26.08.2021
On Facebook, 163 x higher engagement than FB's median across all industries
On Instagram, 1.3x higher engagement than IG's median across all industries
On Twitter 24x higher engagement than TW's median across all industries, with no paid activities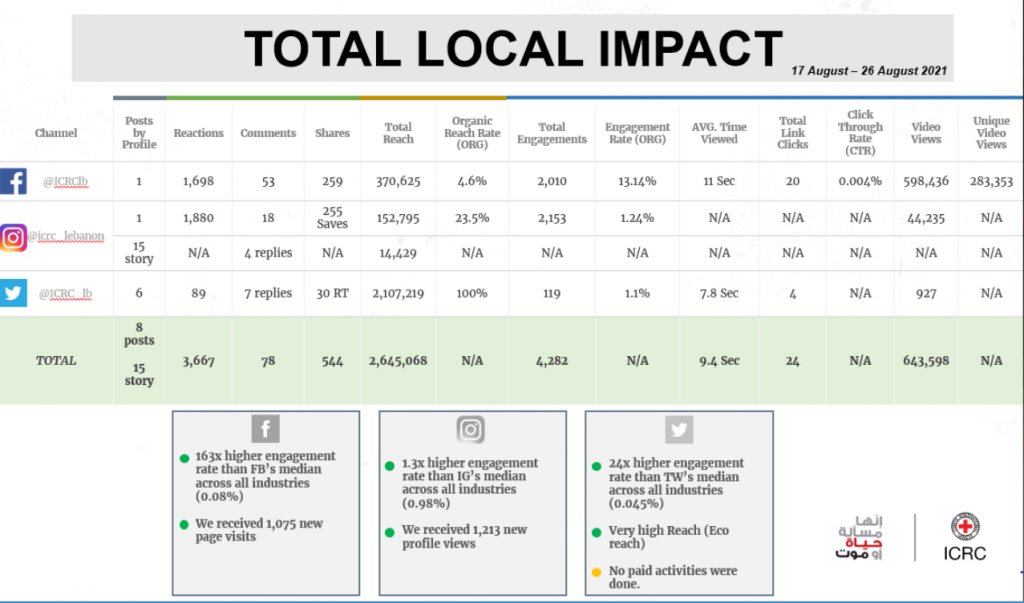 In Lebanon, the ICRC monitors and registers HCiD-related incidents and tackles them with the relevant authorities bilaterally and confidentially. The ICRC also regularly include HCiD-related issues in the dialogue with communities and other actors of influence across the country. In the dialogue with the Lebanese government, armed and security forces as well as other weapon bearers, the ICRC continuously repeats that they must take all possible measures to make sure that healthcare workers are not attacked or impeded to perform their duties and that all people in need of medical assistance receive it timely and without any kind of discrimination whether in situations of armed conflict and other emergencies or in times of peace.